14th Annual Super Scenic 150 Mile Garage Sale - 2022 
The Friends of A1A are organizing the longest and most Super Scenic Garage Sale in Florida for the 14th year!
You read it right.  We're doing it again!
Teaming up with our neighboring Florida Scenic Highways and National Scenic Byways, the Friends of A1A Scenic & Historic Coastal Byway are bringing you the 150 mile Super Scenic Garage Sale!
Mark your calendar for this November and get ready to shop or sell over 150 miles along Florida's east coast.
Starting in Fernandina Beach and ending in Ponce Inlet, we're excited to host Florida's most anticipated shopping extravaganza of the year.
Shoppers: Explore miles and miles of shopping along A1A through Nassau, Duval, St. Johns, Flagler and Volusia counties with a delightful mix of locations to stop and shop, while exploring our coastal communities along the way.
There are many participating locations and increasing weekly, offering major community sites to shop, homes and local businesses. Plan your trip by checking out 2020's map below and see some of the places you'll want to put on your checklist for 2021!
Sellers, local businesses and restaurants: Sign up early to get your location on the site map.
Be sure to download our free A1A Scenic Byway Mobi Tour App in your Play Store or App Store powered by TravelStorys and let your adventure this fall begin!
To register or find out more, visit 
www.scenica1a.org.
Buyers and Sellers are invited to participate from 8 am to 2 pm. Pre-registration allows Friends of A1A to limit the number of participants in small areas. At larger areas, the host property owner decides set up and location. Other facts you may need to know are listed below.
If you have any questions, please contact A1A Super Scenic Garage Sale Coordinator Danielle Anderson at (904) 425-8055 or email danielle_anderson@scenica1a.org.
We look forward to seeing you all this year! 
Who: Friends of A1A Scenic & Historic Coastal Byway and supporting Byway participants

What: The 14th Annual Super Scenic 150-Mile Garage Sale - REGISTER HERE

Where: From Fernandina Beach to Ponce Inlet along 150 plus miles of Florida Scenic Highways

When: Saturday, November 19, 2022 from 8 am to 2 pm

Why: Friends of A1A strives to increase visitation to the scenic sites and businesses along the Byway. Attendees are invited to experience the Eat, Shop, Play Along A1A! Mobi-Tour via free download from TravelStorys in your app store.

How: Friends of A1A uses registration fees to place ads in surrounding county press and internet news media, and to provide event signs. Info and signs may be picked up prior to the day of the event.

Location Assignments: Once the registration fee is paid, sellers may identify community locations desired, if not on their own property. Some spots may be limited. Register Here

Setup: Sellers bring their own table, chairs and goods. Site hosts will arrange space layouts as needed. Time of setup is one hour before event and breakdown is one hour after. Sellers are to bring all needed supplies.

Cleanup: Please leave the selling location clean and litter free upon completion of the event.

Proceeds: Sellers retain all proceeds. Contributions to Friends of A1A are always welcome.
       ~Frequently Asked Questions~ 
Shoppers: 
-
When does the map come out?
Friday, November 18th at 2 pm. 
-
Where does the route start/end?
The Super Scenic Garage Sale spans State Road A1A from Fernandina Beach south along A1A to Ponce Inlet. There are addresses listed off of A1A we hope you'll visit as well! 
-
What does the A1A Pop Up! Restaurant Extravaganza mean?
We have participating restaurants along A1A offering special deals and promotions for shoppers throughout the weekend to make your experience in our A1A Byway communities extra special! 
Vendors/Participants:
- I'm a vendor/seller. When can I pick up a sign for my home or business? 
    -
North: (Fernandina Beach to Marineland) - A1A Office on Friday, November 18th from 10 am to noon. (2175 Mizell Road, St. Augustine, FL) Captain: Bob Samuels 
    - South: (Marineland to Ponce Inlet) - Bings Landing/Captain's BBQ on Friday, November 18th from noon to 2 pm.
Captain: Danielle Anderson
-
I'm a vendor at a community site
.
Do I need a sign?
NO. Signs are ONLY for officially registered homes and businesses. Site Captains will have signage at the community sites.
-
How do I know if I'm registered?
You will receive an email after registration closes on Thursday at 10 AM confirming your Site and  Site Captain no later than Thursday afternoon. 
-
When can I set up?
Community Site Captains will be on site by 7 AM. Check in with them first and they will assist you. We reserve the right to remove any vendors/sellers exhibiting belligerent or disruptive behavior from the community site. Be respectful.
Super Scenic Garage Sale Map 2022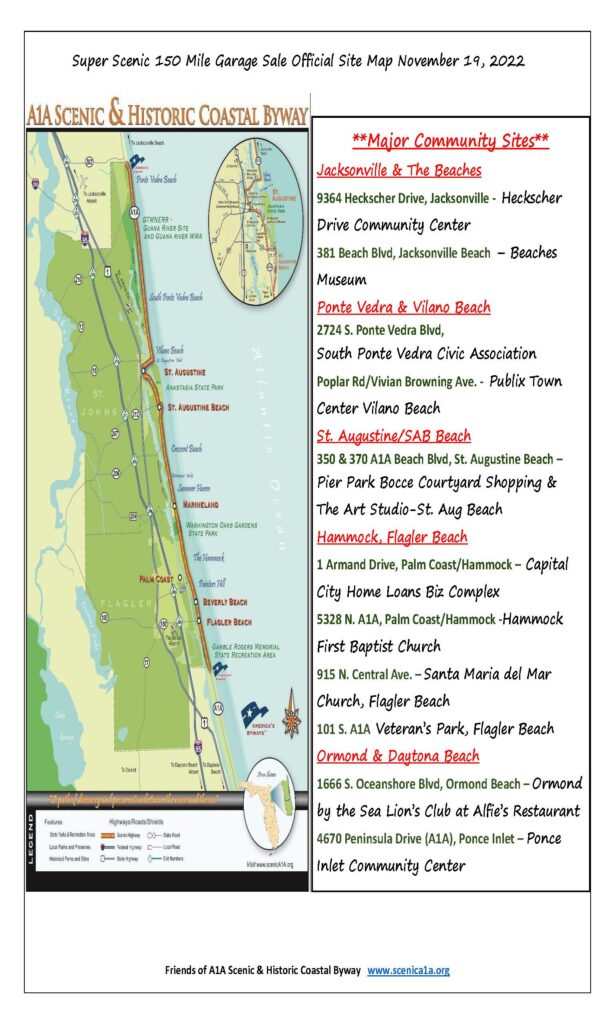 Some of the *Community Sites & Great Places to Stop and Shop Include:
- Heckscher Drive Community Center - Jacksonville
- Beaches Museum - Jacksonville Beach
- South Ponte Vedra Civic Association - S. Ponte Vedra
- Vilano Oaks Subdivision - South Ponte Vedra
- *Vilano Beach Publix on Poplar Road (Vivian Browning Ave.) - Vilano Beach - Site Captain Sallie O'Hara
- *Pier Park at the Bocce Courtyard - St. Augustine Beach - Site Captain Bob Samuels 
- *First Baptist Church - The Hammock - Site Captain Jeff McKay
- Veteran's Park - Flagler Beach Site Captain Rick Belhumeur
-*Ponce Inlet Community Center - Site Captain Peter Finch
* Be sure to check out the homes and subdivisions registered along the way! 

WE APPRECIATE OUR  2022 A1A BUSINESS PARTNERS & RESIDENT SUPPORTERS!
North St. Johns County

South St. Johns County

North Flagler County

South Flagler County

Aqua Grill

Genung's Fish Camp

Captain's BBQ

Golden Lion
Restaurant

Casa Monica Hotel

Island Ice Cream Cafe 
Hammock Beach Resort 

Flagler Merchants

Five Star Pizza

Guy Harvey Resort  St. Augustine Beach

Five Star Pizza

Funky Pelican

Hilton Garden Inns

Christe Blue

Hammock Business
Association
Gamble Rogers
Recreational Area
Ripple Effects
Kayak Tours

Watson Realty

Hammock Dunes
Golf Club

Hilton Garden Inn

A1A Self Storage PV

Mojos - Anastasia

JT's Restaurant

Island Cottages
Inn & Spa
Ponte Vedra Concert Hall 
St. Augustine Montessori School
Ripple Effects
Kayak Tours
Flagler Beach Historical Museum 

Magic Beach Motel

Sunset Grille 

Le Cose Belle

Z Wave Surf Shop

Camachee Cove
Yacht & Businesses
Salt Life 
Matanzas Shores
Women's Club
Whale of A Sale
The Island Grille 
US Coast Guard
Auxiliary
The Real Deal
Coupon Book
Hammock Gardens
Beverly Beach Camptown Store
Cast n Cruise
Red Train Trolleys 
Select Home Decor & More
Beach Belly Bob's
180 Vilano Grill
Casa Monica
Hammock Wine
& Cheese
Oceanside Beach Bar & Grille 
Mojo Taco - Vilano
St. Augustine
Lighthouse
Marineland Dolphin Adventure
Flagler Women's Club
Cultural Center of PV
Holiday Shoppes
St Augustine
Amphitheater
Amvets -
The Hammock
Tortugas Florida Kitchen & Bar
A1A Dog Training
Hammock First Baptist Church 
Beach Barre Fitness
Friends of GTM
 
Palm Coast Villas
Frankie Alice Beachside Boutique
D & G Mercy
African Products
Flagler Beach Gift Shop
Publix
Vilano Beach
Town Ctr Realty
 
VENDORS - Reserve your locations now to include in ongoing advertising until the event. NOTE- New registrations may be added before the sale. Deadline to have your home or business location listed on the site map is November 17th.
BUSINESSES - Contact Danielle Anderson and allow Friends of A1A to aid in the Byway campaign for your business. Community tables are available for literature and coupon distribution. Email: danielle_anderson@scenica1a.org for information! Deadline to be listed on the community site map is November 20th.
RESTAURANTS - Be part of the Ultimate A1A Pop Up! Biz Experience. Register with your location, participation times, specials, deals or savings offered between November 19th-November 21st.
*Deadline for inclusion on the A1A Scenic Byway Super Scenic Garage Sale Map is November 17th.* 
SHOPPERS - Stay tuned and watch the designated stops grow. Site map will be published November 20th.
ITEMS to buy will be posted in November as the event is near.