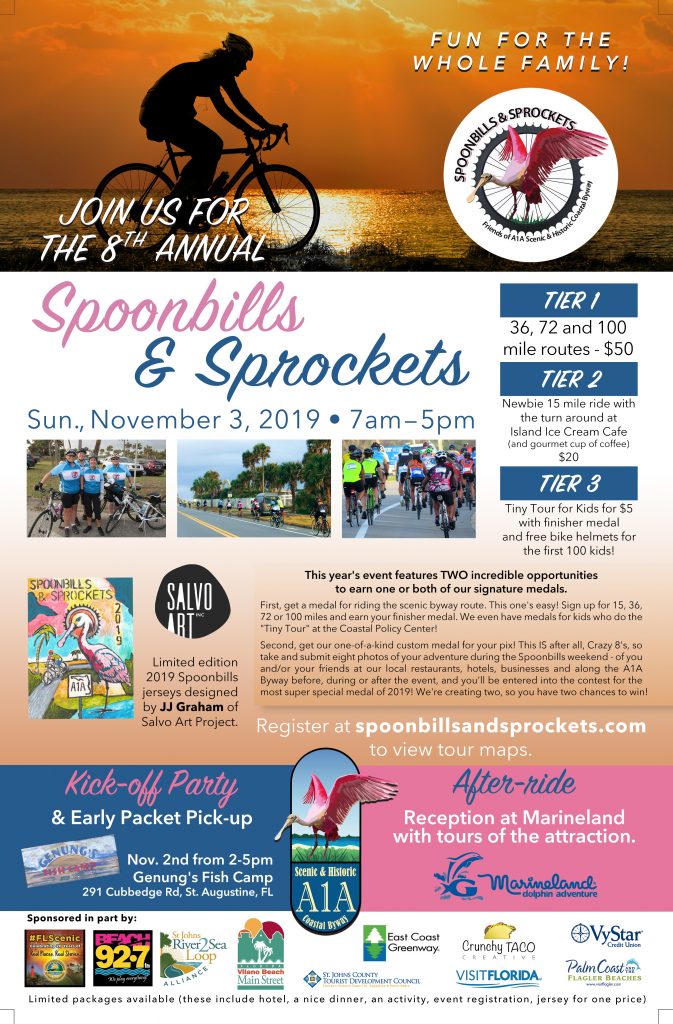 Are you ready to ride in our best Spoonbills & Sprockets ever? It's our 8th event and this year we're going Crazy 8's!
Not only will you ride along the nation's most scenic & historic coastline on A1A, you'll have a ton of fun along the Crazy 8 route! Remember to order your signature jersey early this year and be sure to check out our super finisher medal!
We're kicking off the event at Genungs Fish Camp and the fun rolls on through the weekend! We can't wait to see you!
This year's event is featuring TWO incredible opportunities to earn one or both of our signature medals.
First, get a medal for riding the scenic byway route. This one's easy! Sign up for 15, 36, 72 or 100 miles and earn your finisher medal. We even have medals for kids who do the "Tiny Tour" at the Coastal Policy Center!
Second, get our one-of-a-kind custom medal for your pix! This IS after all, Crazy 8's, so take and submit eight photos of your adventure during the Spoonbills weekend – of you and/or your friends at our local restaurants, hotels, businesses and along the A1A Byway before, during or after the event, and you'll be entered into the contest for the most super special medal of 2019! We're creating two, so you have two chances to win!
We'll see you on November 3rd!
Register at www.spoonbillsandsprockets.com.